The APC Team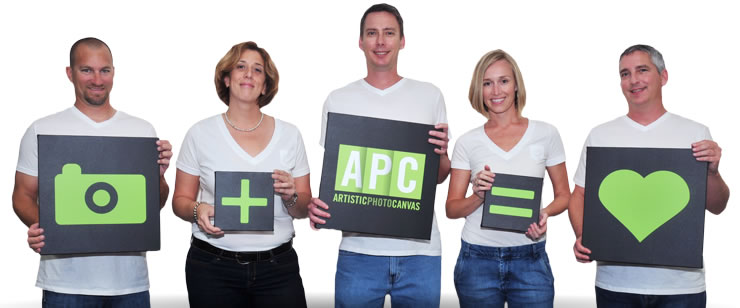 The friendliest perfectionists you'll ever meet.
There are a lot of options for canvas photo prints these days. Some companies slap your photos on jewelry boxes, puzzles and foam lattés along with your canvas order. Not us. Here's why: printing on canvas, the right way, requires a level of expertise and care unlike any other kind of printing.
Yet, few companies specialize in canvas printing. Even fewer invest in a team of experts from professional photographers to canvas stretchers or from image editors to customer support specialists. We're proud to say we do all of that and more. We also create your canvas from start to finish. There are no button-pushers, conveyor belts or call centers here. Just a genuine understanding of what it takes to create stunning canvas prints.
Since we're trained artists, color managers and photographers — you don't have to be an expert in photo composition, exposure, cropping or contrast. Unsure which canvas size will work best with your photo? To gallery wrap, or not to gallery wrap? Should you spring for the advanced retouching? Relax, that's why we're here. We're ready to help you with decisions about options, proportions, cropping… you name it. We call it fanatic customer service and we've been serving it up with every APC canvas since we started back in 2005.