Elevate your art by combining stunning APC canvas wraps with our eco-friendly floater frames. Framed Canvas Wraps bring additional depth – and even more flair – to your photography.
New! Framed Gallery Wraps
The latest contemporary design trend for canvas prints combines a gallery wrap with a specialty "floater frame."
We start with your photo – masterfully transformed into a handcrafted Thin Canvas Wrap (3/4") – then expertly mount it into a custom, satin-finish 1.5" deep Floater Frame
The canvas appears to "float" inside the frame – with Gallery Wrap edges visible in the gap between the canvas and the frame
Take your pick of frame colors – Solid Black, Solid White, or Espresso with an etched wood grain effect
A sturdy, coated Hanging Wire ($7 value) comes standard – installed at no additional charge
Every Framed Canvas Wrap is sealed with the APC 100+ year archival UV topcoat
Order by desired frame size – We'll size your Gallery Wrap to fit perfectly (2" smaller than outside frame dimensions)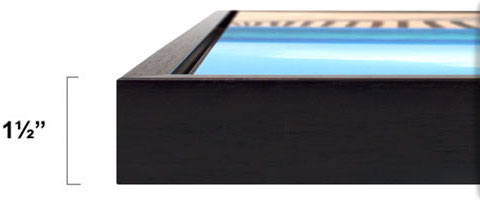 ---
Sleek, contemporary, beautiful, affordable … and eco-friendly, too!
These Framed Canvas Wraps aren't just easy on the eyes. They're pretty easy on your wallet – and the environment too.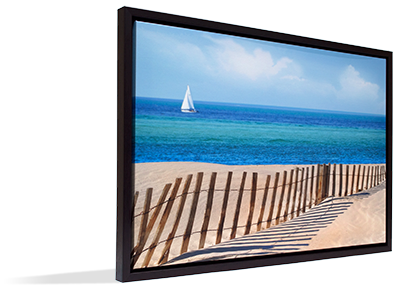 APC Framed Canvas Wraps start at just $76 – complete with hanging wire. Impeccable, archival canvas prints – custom framed for a fraction of what you'd pay at a local frame shop!
Crafted from a hard resin foam derived from recycled materials, our frames are an environmentally friendlier version of wood-based frames.
In fact, our floater frames look identical to the wood versions of the same frame moldings because they have the exact same veneers. The only substantive difference is in the weight of the frame molding – but consider that when the outer frames are merged with the hardwood-framed canvas wraps, the end result is a very substantial feeling product.
When you receive your gorgeous finished art, pat yourself on the back for joining Team APC as we save trees and reduce the world's waste stream.
---
Available Finishes
A nice selection of frame colors allows you to complement your image – and your decor.

Black

White

Espresso
---
Frame Dimensions
Our floater frame profile was inventively crafted to look amazing at various finished print sizes. Whether your canvas will be displayed in a large, small, or somewhere-in-between size, the framing effect will be equally dramatic.