APC Options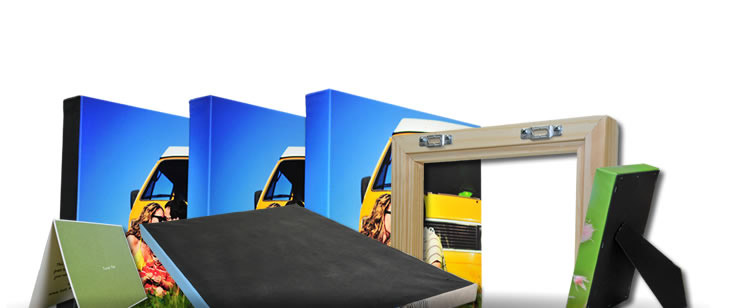 Looking for just the right options for your custom canvas? You've come to the right place.
We've got options galore.
Expert Photo Retouching. Or not.
(Free)
Upgrade your photo with a free photo retouching "flight check." Unlike other labs that leave you on your own, APC is staffed by imaging experts that are at your disposal every time you order.

Click on examples to see before / after views.
Standard Retouching & Photo Enhancement
Perfect for those minor photo defects that detract from your image
Retouched by APC image editors and professional photographers who know their way around composition, contrast and color management
Free exposure and color correction
Free removal of "photo haters" like red eye, date stamps and minor blemishes


No Retouching
You won't hurt our feelings if you prefer a "hands off" approach. Just select "No Retouching" during the order process.
Advanced Retouching & Photo Restoration
(from $29.00)
Bring in the big guns to restore damaged photos and snatch unwanted people or objects from your pictures. APC's image editors can fix up old photos, remove parts of an image that you don't like, or even combine elements from more than one photo.

Click on examples to see before / after views.
Pricing starts at $29.00 but we'll contact you to discuss your goals and give you an estimate once we get a look at your picture
Retouched by APC image editors and professional photographers who know their way around composition, contrast and color management
Gallery Wrap Edge Treatments
(Free)
Give your canvas print an edge treatment guaranteed to land double takes.
Artist's Choice

Overwhelmed? Take the pressure off you and slap it on an expert.

Ideal when you're on the edge about which option to choose or just want a recommendation from an expert
Our imaging experts choose the edge treatment (Image Wrap, Reflected Edges or Color Edges) that works best for your image
Our selection factors in your image's subject and composition as well as the size and shape of your canvas order



Image Wrap

For images that are too good to be contained by four corners.

When you choose "Image Wrap," the top, bottom and sides of your image will wrap around the edges of the stretcher frame. Image Wrap results are stellar when one or more of the following is true:

You're ordering a pretty big gallery wrap, say 24" x 24" or bigger
There is plenty of "expendable" background on all four sides of your photo
You don't mind if parts of the primary subject of your image wrap around the canvas edges
You composed your image with an Image Wrap in mind
You're a professional who has factored the Image Wrap into your digital file, prepared and sized according to

our guidelines




Reflected Edges

A sleight of hand to make your image "gallery wrap ready."

"Reflected Edges" preserve the original composition of your image on the face of the finished canvas. The outermost portions of your image (at the top, bottom and sides) will be "reflected" to create additional image area specifically for the gallery wrap edges.

Reflected Edges may be the ticket for you if:

You crave the artistry of a gallery wrap but are averse to using any of your existing image to wrap around the sides
Parts of people or pets in your photo are not very close to the edges.



Color Edges

Sometimes you just want to color outside the lines.

When you choose "Color Edges," we'll apply any color you like to the edges of your gallery wrapped canvas.

Perfect if you want the clean, modern look of solid color edges
Works well if you need your entire image to appear on the front of the canvas versus bleeding over on the edges
Extra Image Area for D.I.Y. Gallery Wraps
(from $1.90)
If you have mustered up the materials, tools and expertise to stretch your own gallery wraps, then you're going to need some extra image beyond the "live area" for those gallery wrap edges.

We'll serve it right up when you order your canvases "Unstretched" and tell us the depth of your stretcher frames. And we'll still give you our customary 2" of additional unprinted margins on all four sides so you'll have plenty of extra canvas to grab with your pliers.
Gloss or Matte Finish. It's your choice.
(Free)
How's this for a photo finish? Our 100+ year archival UV top coat is now offered in matte or gloss.
Matte Finish

For a completely glare-free presentation of your photo on canvas, choose Matte Finish.

Gloss Finish

To give your colors extra "pop" and make the texture of your canvas stand out, choose Gloss Finish.
Dust Covers & Easels
($5.00 - $15.00)
We've got your back — your canvas back that is — with dust covers for your gallery wraps and easels that even let them take a load off when on tabletops or mantels.
Dust Covers
(from $5.00)

Our canvas prints are safe from even the largest dust bunny. But some professional photographers prefer to present clients with an attractive dust cover because the look is more consistent with traditionally framed photo products. That's why we've created a canvas-compatible Dust Cover for our gallery wrapped canvas prints that includes:
Durable black backing material firmly adhered to the backside of the stretcher frame to within 1/4-inch of the edges – concealing the stretcher bars, canvas and staples.
One or two sawtooth hangers (depending on canvas size) attached to the top edge of the backside of the stretcher frame. The finished canvas is ready to hang right out of the box.
Clear rubber bumpers adhered to the two bottom corners on the backside of the stretcher frame to balance the off-the-wall distance created by attachment of the sawtooth hanger(s). The bumpers also resist movement of the canvas against the surface upon which it is hung.
Four discreet, strategically placed holes (approx. 1/4-inch in diameter) in the dust cover to allow air to circulate and reduce the possibility of a potentially damaging microenvironment between the canvas and the backing material.


Integrated Easels
($7.00)

Let your canvas take a load off – with as much pazazz as a picture frame!
Available as an option for small gallery wraps in the following sizes: 6" x 8", 6" x 9", 8" x 6", 8" x 8",8" x 10", 8" x 12", 9" x 6", 9" x 12", 10" x 8", 12" x 8", 12" x 9". (Not available with custom sizes.)
Perfect for displaying your canvas on tabletops or mantels
Removable easel backing (with hidden hanging hardware) means you can hang your canvas anytime.
Hanging Hardware
(Free - $15.00)
Sawtooth Hangers
(Free)

Every APC gallery wrap arrives ready to hang with standard hanging hardware installed, consisting of sawtooth hanger(s) and clear rubber bumpers that offset the hangers, protect your walls, and stabilize your canvas.

But if you're looking for something different, we also offer three premium hardware options to meet your needs.
Hanging Wire
($7.00 Installed; or Free with Framed prints)

If you'd like a traditional hanging wire for your gallery wraps, select the Hanging Wire option and we'll expertly attach one for you.
Self-Leveling Hangers
($10.00 Installed)

This ingenious new hanging system helps you nail a perfect installation every time! Forget about those level, precisely measured marks you usually need to position picture hooks for a large piece of art. Our Self-Leveling Hangers allow a pretty big margin of error in both horizontal and vertical nail placement, so now you can pretty much "eyeball it" — and you'll still end up with a perfectly level installation! Ideal for all panoramas and any gallery wrap exceeding 24" in width.
Security Hanging Hardware
($15.00 Partially installed)

Keep your canvas on lock down in areas where sticky fingers or high traffic are a concern. When you choose the Security Hanging Hardware option, we'll prepare your canvas accordingly and supply the additional hardware you need for a totally secure installation.
Digital Proofs
(Free)

Digital proofs aren't customary since we carefully check each image to make sure it's well suited to its canvas order before it's ever created. We also aim to ship every order within 2 – 3 days of receiving it. But we also want you to be elated with your canvas print. So if you want a digital proof before we make your canvas prints — you've got it. Just let us know at checkout.
Your Brand Delivery
($6.00)

Listen up pro photographers and artists – we can ship directly to your customers and include your marketing materials — all the while saving you time and money.

This pro-level perk means that:
Your name, company name (if applicable), and address will appear on the return address label of your order's shipping carton(s) — instead of ours.
Our branding won't appear on the canvas stretcher frame(s), dust cover(s) or any enclosed materials.
We'll include up to four ounces of your promotional items such as Certificates of Authenticity, catalogs/brochures, invoices/packing slips or other items you supply. We'll keep the materials you provide on file, include them with your shipments, and notify you when your stock runs low. We'll even print up to two custom 8.5 x 11 color enclosures for each order if you supply them in PDF format within 24 hours of order placement.
Gift Messages
(Free)

Put the cherry on top of your thoughtful canvas print — whether you're celebrating a birthday, anniversary, holiday or other special occasion.
Send a personal message along with your stunning APC canvas gift
Just choose "Gift Message" and include your endearing prose within the shipping options during checkout
Not to worry — any order shipped to an address other than your own won't include an invoice or receipt